With 4,474 miles biked and over $50,000 raised, the FACE AIDS 2010 Ride Against AIDS has come to a triumphant close. Sporting their stylish FACE AIDS team jerseys and huge smiles, Claire, Jason, Kirsten, Mike, Sanford, Shane, and Zane made their way into Boston, the Ride's final destination, on August 19.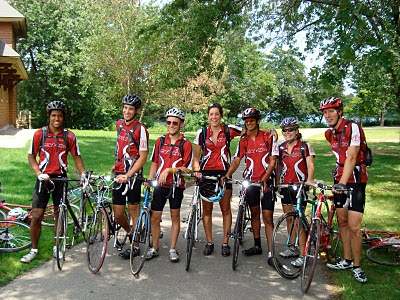 As they biked their last few miles along the Charles River, they were joined by family, friends, and Partners In Health staff. When they began the ride in June, they symbolically dipped their back bike tires in the Pacific Ocean, and upon reaching the Boston Harbor last week, they marked the end of their journey by dipping their front tires in the Atlantic Ocean.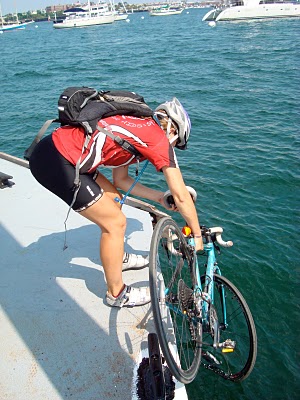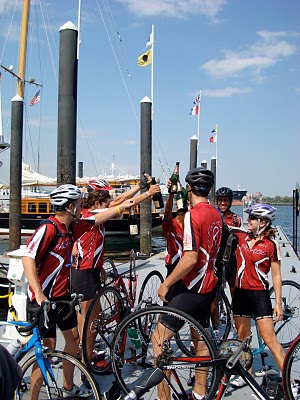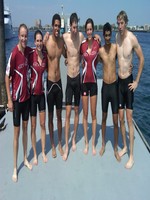 After much celebration, the team enjoyed a BBQ dinner on Thursday evening with the Partners In Health team, and were welcomed into the Partners In Health office on Friday to talk about their journey with the entire staff over a brown bag lunch.
We are so proud of these students and all that they accomplished this summer. With the funds that they raised, Partners In Health will be able to provide hundreds of thousands of people in rural Rwanda with high quality comprehensive health care. FACE AIDS will be able to provide many of these same individuals with employment and access to savings and credit, helping them to secure a stronger financial future. Moreover, through the conversations these students had with people all across the United States about social justice, global health equity, and the power of young people to make a difference, they have powerfully contributed to our mission to build a veritable movement of people committed to ending the global HIV/AIDS pandemic. To us, these seven students exemplify the leadership and dedication that is needed to change our world for the better.
This ride and the achievements of our students would not have been possible without friends like you. Thank you so much for everything that you did to support the 2010 Ride Against AIDS.